Ladder-Max Standoff Stabilizer, Ladder Stand Off for Gutters
Regular price
$ 124.99
Sale price
$ 99.99
Unit price
per
Sale
Sold out
Save 20%
Packaged In Convenient 3 Ft. Lengths (Excluding Sample Packs)

Packs also include 2 x 18 inch sections for use where shorter lengths are needed.
Durable Quality Construction Since 2004

Galvanized Steel Wire

UV Protected Polypropylene Bristles

Made in the USA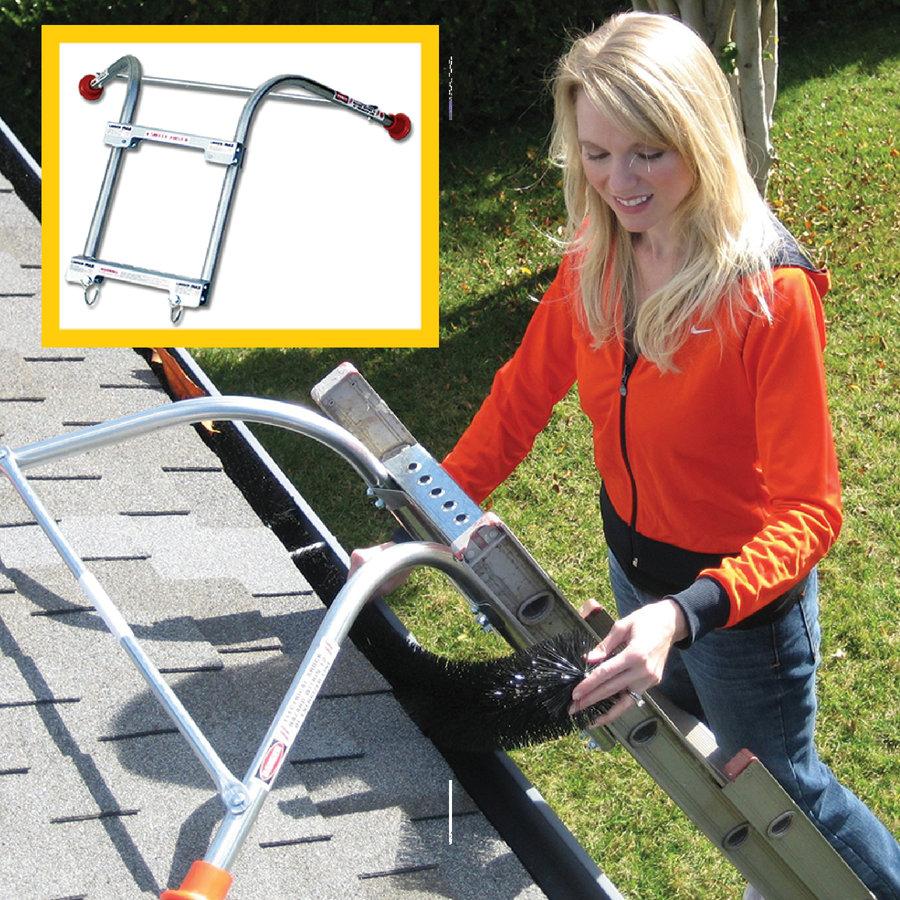 Ladder Safety for Leaf Guard Installation with Ladder-Max
No Additional Discounts Available during sales or promotions.
Climb with stability, confidence and safety using the Ladder-Max Ladder Standoff Stabilizer.  A ladder stand off for easy gutter guard installation and gutter protection because it puts the weight on the roof instead of leaning it against the gutter. 
GutterBrush Leaf Guard and Ladder-Max Ladder Stand Off Stabilizer, they go together.
SHOP NOW For GutterBrush   The fastest and easiest DIY gutter guard
Ladder Max enables you to comfortably perform gutter cleaning or leaf guard installation. Work like the professional leaf guard installers. 
See the easiest Gutter Leaf Guard that's different; anyone can install it fast and easy! no tools required!   Easiest Gutter Guard Protection.   If you can perform a gutter cleaning, you can install this DIY brush gutter guard;  just fill the gutter!

Will It Fit My Ladder? 
Ladder-Max Standoff Stabilizer 

will fit ladders with the following clearances: Width between the ladder side rails is more than 11-3/4; Spacing 

between 

rungs is 12 inches on center; Depth of ladder rungs 

that 

the standoff will rest on are 2 inches or less. 

 

Ladder-Max Standoff Stabilizers 

will fit on some multi-position ladders (such as Little Giant or Gorilla) 

as long as

 

the ladder is in the extension position and the rungs do not overlap. Review the clearance guidelines above against the ladder you are using.

 
Ladder Gutter Guard
Ladder-Max: Highly Recommended Product for
Homeowners and Contract Professionals
The Ladder-Max is in a class of its own when it comes to ladder stabilizers. Attach it to your extension ladder and enjoy incredible stability.  It also gives you a full 19 inches of standoff so you will never again have to lean your ladder against the gutter, even when cleaning gutters.
Installing Gutter Guards and Cleaning Gutters: Ladder-Max
EASY ACCESS TO GUTTERS! Makes a tough job easier. Use Ladder-Max with your extension ladder to first clean your gutters and then install the simplest leaf guard product; GutterBrush! Ladder-Max gives you easy, safer access to gutters and your roof. 
Home Improvement Projects
GREAT FOR HOME IMPROVEMENT PROJECTS! Ladder-Max makes all your projects with an extension ladder easier and more secure! 

Painting Made Easier!
A GREAT TOOL TO MAKE THE JOB OF PAINTING YOUR HOME EASIER AND SAFER! Ladder-Max lets you reach difficult areas. Simplifies working around overhangs and windows. Protects fascia, siding and gutters. Increases safety and stability on your extension ladder.
Fits Most Ladders
Ladder-Max fits all major aluminum, wood and fiberglass extension and articulating ladders including Werner, Louisville, Howard, Gorilla, Little Giant, Green Bull and others. Ladder-Max slips over 2 of your ladder's rungs, which should have standard spacing of 12 inches on center.
You won't find a quality standoff stabilizer like Ladder-Max in your local big box retail store.
Add Ladder-Max to your GutterBrush order for safer gutter guard installation.
Measure

Measure gutter across the top from the back to the front lip. (Most residential gutters are 5 inches) Measure total footage of gutter protection needed.Select combination of packs to meet total footage needs.

Install

Simply slide lengths end to end filling your gutter channel. Can be bent around corners and folded back into itself to create shorter custom lengths. No tools, cutting or fasteners needed.

Relax

Enjoy peace of mind and freedom from clogged gutters, regular gutter cleaning and water damage.
Trusted By Aluminum Gutter Guard Experts: