Warehouse Gutter Guard for Steel Buildings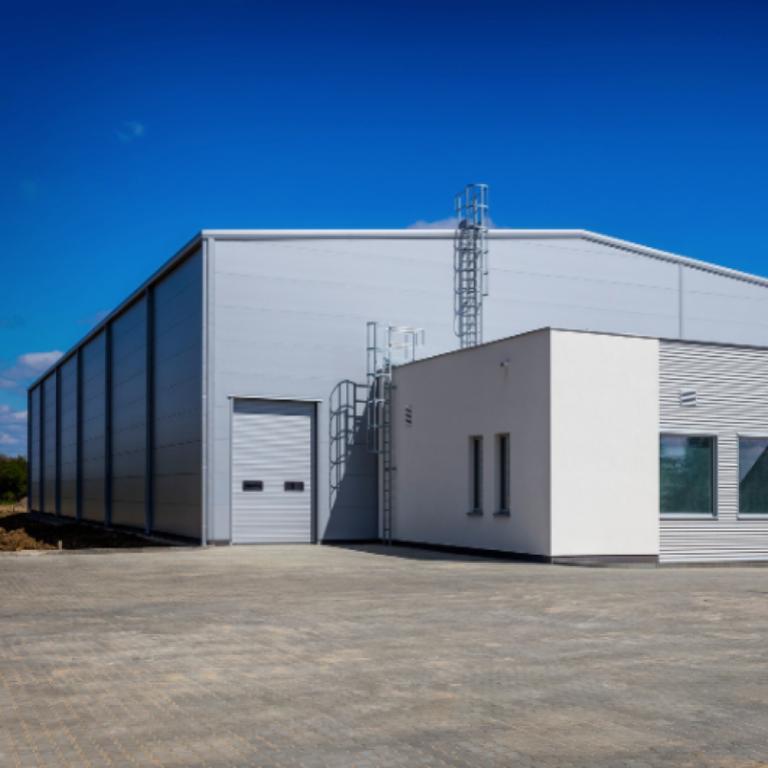 Prior to the introduction of GutterBrush brush gutter guard in 2004, steel building gutters had no protective device available on the market to prevent gutter clogs. These types of gutters, also known as PEB gutters or metal building gutters, have unique physical attributes and attachment methods that make standard leaf guards, screens, and covers unsuitable for installation. This article will explore the attributes of steel building gutters and explain why common gutter guards are inadequate for their protection. Steel building gutters are also commonly referred to as Pre-engineered Building Gutters; the metal building industry calls them "sculptured gutters," "sculptured eave gutters," or "sculpted gutters."
The popularity of metal buildings began about a half century ago, primarily for commercial and agricultural purposes. They provided large, durable, and cost-effective business space with high ceilings, making them ideal for companies that required a lot of open space. The low cost, durability, and usefulness of pre-engineered metal buildings have made them a prominent choice for commercial zones across the USA.
Years ago, builders were initially skeptical of metal buildings, considering them to be "bare bones" and rough, with surface fastening and steel panels that are corrosive. However, the cost savings were significant, and the fast building procedure made them an attractive option. Metal building system sales people would contend that the low cost would allow owners to replace the building in the future when it corrodes away, but metal buildings have proven to be extremely durable and long-lasting. Over the years, metal buildings have strengthened and evolved to include residential use, with barndominiums becoming a popular option due to their strong construction at an attractive cost.
Warehouse Gutter Guard
Click here to see a video about Metal Building Gutters and Gutter guards
Despite their durability, steel building gutters remain vulnerable to clogging without the right protection. The physical peculiarities of these gutters, such as their unique shape and attachment methods, make it impractical to install traditional gutter guards on many PEB warehouse gutters. This is where GutterBrush brush gutter guard comes in, as it was specifically designed to solve, among other things,  the difficulty of clogged metal building gutters.  By fitting securely into the gutter, GutterBrush keeps leaves and gutter debris out while allowing water to stream freely. It is an effective solution that installs easily and ensures the longevity and functionality of metal building gutters. It is a warehouse gutter guard for steel buildings
Needed Now, Warehouse Gutter Protection
As steel buildings become increasingly favored for both home and commercial usage, it's now common to see them located in close proximity to banks of  trees. Homeowners and business owners alike enjoy the aesthetic appeal of having trees nearby, but such foliage can create problems for the building's gutters. The need for gutter guards has become more prevalent in recent years in order to avoid clogs caused by leaves and debris from nearby trees.  Click here to see the brush gutter guards solution for large warehouse gutters
Common Gutter Guards wont fit Warehouse Gutters
Metal building gutters, also known as Sculptured Eave Gutters, possess  a unique configuration that sets them apart from traditional gutters. The high front edge of these gutters is intentionally designed to make the building look aesthetically appealing, while also providing strength and stability. However, this gutter also makes it nearly impossible to install standard gutter guards or screens.
Attempting to install a standard gutter screen on a Sculptured Gutter would require installing the  new gutter guard screen to extend from the outer edge of the gutter to connect beneath the roof drip edge. However, because the gutter is connected to the upper roof ribs with gutter straps, this is not possible without compromising the integrity of the roof because every gutter strap is impeding such a configuration.
Warehouse Sculptured Gutter Guard
In conclusion, if you have a steel building with a common metal building gutter known as a  Sculptured Gutter, it's important to invest in a gutter guard specifically designed for this unique type of gutter: a warehouse gutter guard.  Standard typical gutter guards will not fit properly and with the necessary fastening, could even cause damage to the roof and leakage, leading to costly repairs. Protect your investment and avoid gutter clogs with a Sculptured Warehouse Gutter Guard like Gutterbrush.
To avoid the inherent risks of metal building gutter leakage and overflow caused by the gutter's unorthodox design, it's essential to use a suitable gutter guard solution. Common gutter protection installation techniques won't work because the high front edge of the gutter can cause backup and rain water leaks back into the building. However, GutterBrush offers a flexible and self-fitting brush gutter guard that effectively prevents clogging and keeps debris out of the warehouse gutter flow channel.
Easiest Warehouse Gutter Guard
Click to shop all sizes of GutterBrush Warehouse Gutter Guard.
Installing GutterBrush is easy and requires no fastening or tools. Simply fill the whole metal building gutter with 3 ft.  lengths of GutterBrush on after the other.  No tools or fasteners are required; it is that easy, just fill the gutter and you are done! The bristles of the warehouse gutter guard prevent debris from clustering together and streaming to create a larger plug that clogs the gutter or wedges into the downspout opening.  This means that the gutter will not clog, ensuring proper water drainage and avoiding the risk of interior water damage.  Click here to see how easy GutterBrush installation is with no fastening required. 
Warehouse Bird Guard too.
In addition to being an effective warehouse gutter clog protection solution, GutterBrush also serves as a warehouse bird guard for metal buildings and PEB buildings. The flexible brush bristles act as a bird deterrent, preventing birds from entering the warehouse gutter and potentially entering the building.  Click to learn about how Gutterbrush is a bird barrier; as well as other uses for Gutterbrush. The GutterBrush system is made in the USA, comes in five sizes, and requires minimal maintenance. If it becomes necessary, the warehouse brush gutter guard can be removed,  banged out, and reinstalled, ensuring long-lasting protection. To learn more about GutterBrush, you can call 1-888-397-9433 during normal business hours eastern standard time.  Gutterbrush home offices are located in Rhode Island.  You can also reach them by emailing to  info@gutterbrush.com.  To see videos and frequently asked questions, visit their web site at www.gutterbrush.com.