Alumawood Patio Cover Accessories, Gutter Guard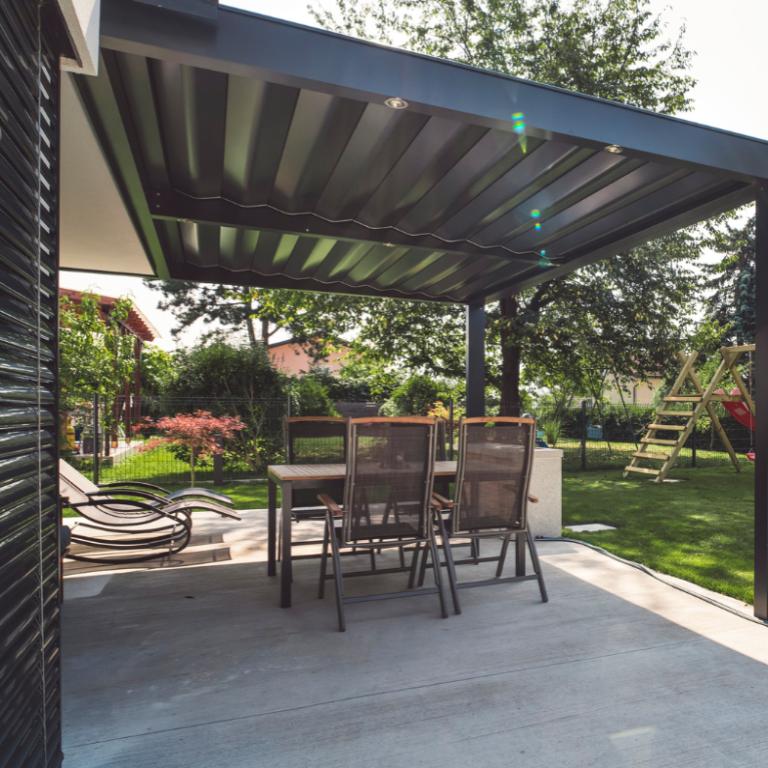 One form of prefabricated structure is the Alumawood Patio Cover. These are beautiful additions to people's homes and they are not just limited to Patio Covers, they are also commonly installed as patio enclosures, carports as well as awnings. Often referred to as three seasons rooms or four seasons' rooms, Alumawood is a very successful brand, and their Patio Enclosures are spectacular. They are a popular and comfortable addition to any home. There is only one issue.  Alumawood Patio Covers come with gutters, and the Alumawood Patio gutters are a very strange shape that makes them difficult if not impossible to clean and maintain. What is a person supposed to do if they have a patio cover gutter and  it clogs? We will address these issues and solutions in this article. 
Alumawood Patio Cover Gutter 
Alumawood Patio Covers are a great way to add some spice into your life and your home. They are a very reputable brand, click to visit the Alumawood site.  Since patio  covers are prefabricated, contractors can come to your home and assemble them quickly. Prefabrication and assembly helps to keep the costs down: these prefabricated patio room structures are a system, so  they always come out looking clean, neat and pretty. Typically, with lots of windows and brightness, they  are an enjoyable affordable space, but the prefabricated nature can come at a cost when it comes to  gutters. Patio Cover Gutters are strange-shaped gutters. The roof panel often extends too far over the  gutter, so it is impossible to get your hand in there to perform a gutter cleaning. Often, Alumawood  Patio Covers also have an additional sheet metal gutter cover that extends up and over the gutter further  keeping you from performing gutter maintenance or installing a gutter guard. 
Alumawood Patio Cover Gutter Clogging 
Patio covers are typically installed as additions to residences.  Most homes require gutters in order to avoid rainstorm problems like landscape erosion,  foundation damage, and basement flooding. Often, people in residential neighborhoods also like trees. Therefore, it is easy to understand how patio enclosures can be installed with gutters that will clog with leaves falling from trees surrounding the home. 
What's the Problem? Patio Cover Maintenance 
The concern is that Alumawood Patio Cover gutters may clog, and they are extremely difficult to clean or outfit with a gutter guard or leaf guard due to the unusual gutter shape that is also often found with a metal gutter cover. Clearing gutter leaves and debris is a fact of maintenance required for any structure  whether prefabricated or not. 
Alumawood Patio Cover Accessories, Gutter Guard 
Many are looking for Alumawood patio cover accessories and one of those sought after accessories is a patio cover gutter guard to stop gutter clogging and gutter overflow. GutterBrush is one of the Alumawood patio cover accessories available direct to the homeowner. Visit www.gutterbrush.com to see one of the easiest DIY gutter guard accessories, it is a flexible brush gutter guard that is easy to install with no  fastening or skill needed. 
Alumawood Roll Formed Gutter Guard
One of the Alumawood Patio Cover Accessories, gutter guard offered by Alumawood, is a gutter leaf  screen. They call it the Alumawood Roll Formed Gutter Guard and it consists of a leaf screen that is  applied prior to the installation of the gutter. This screen leaf guard will keep the leaves out, but if  debris gets in there, I do not see any way of maintaining it without taking the entire gutter system apart.  It looks like this Alumawood Roll Formed Gutter Guard must be installed when the patio enclosure is being constructed, because there does not seem to be any way to install a gutter screen after the patio cover has been installed and the patio enclosure gutter has been fastened in to place. 
Alumawood Patio Cover Gutter Guard 
Alumawood Patio Cover owners have been turning to GutterBrush products to keep their gutters from clogging.  Alumawood customers call and explain the problem, and they use GutterBrush to keep their gutter protected because it is easy to use, user friendly and it solves gutter clogging. Patio cover owners regularly call the GutterBrush technical service department because of the extensive years of gutter know-how and the fact that GutterBrush has a solution that works for Patio Cover gutters; when other gutter guards and leaf screens will not fit and do not work. See how easy this brush leaf guard is to install.
Patio Cover Gutter Clogging Solution, 2 Configurations 
Patio Cover owners explain to GutterBrush that it is difficult to maintain their oddly shaped gutters. They further explain that they must deal with the gutter clogging issue and then in the future they are looking for a gutter solution to keep it from happening again and to keep debris out of the downspouts and buried storm drainpipes. Solving gutter clogging in patio cover gutters with GutterBrush, can be  performed with either of the following two configurations. 
1) GutterBrush is installed down inside the Patio Room gutter. The brush gutter guard installer would choose the best GutterBrush diameter or size that best fills the width of the gutter. Once the correct GutterBrush size is chosen, purchase the footage needed; but please understand that  all GutterBrush orders come packed in 3 foot lengths so you can easily just slide 3 foot lengths of GutterBrush into the gutter; one after the other, filling the entire gutter. When you fill the entire  gutter, the brush acts as a protected flow channel and keeps the gutter leaves and debris from clumping, flowing and clogging. 
2) GutterBrush is Pressure Fit Between the Roof and the Patio Gutter: Some customers explain that due to the way the Alumawood Patio gutter is restricted by either the roof panel or the  gutter cover, they can not fit GutterBrush into the gutter without performing removals. Later in the article we discuss performing some removals, but rather than install GutterBrush down  inside the gutter, some customers choose to pressure fit GutterBrush into the opening above the  gutter in order to keep the gutter leaves and debris from getting in there in the first place.  Customers explain that they purchase the correct diameter so that they can press it into the  opening of the gutter and the pressure fit will allow it to stay in place with no fastening. Further, they cut the GutterBrush lengths to fit between the roof panel ribs and fill the opening so that the rainwater will flow between the bristles and the brush will filter the debris and keep the debris out of the gutter. 
Patio Cover Gutter Cover Removal: 
Often, Patio Cover gutters have the problem that the following items, or both, are in the way impeding patio cover gutter cleaning and impeding the installation of a patio cover gutter guard. 
1) The roof panel edge extends too far over the gutter closing off the gutter opening and making it so that your hand will not fit down inside the gutter to clear debris from the gutter.
2) There is an extra piece of sheet metal such as a shroud or a gutter cover that most gutters do not have or need.  
In the case of the roof panel extending too far over the gutter, such a problem is unfortunate because extending the panels too far is just excess and that extra drip edge does not need to be there. If the roof  panel is not an insulated panel, some customers cut the panel back so that they can fit their hand in  there to clean. Some customers will just cut a small section away just enough so that they can feed  GutterBrush into the gutter face first like a worm sliding each piece all the way to the other end of the  gutter. In the case of the gutter cover being in the way, a small amount of the sheet metal gutter cover  can be snipped away in order to fit the GutterBrush into the gutter, once again face first like a worm, to be slid to the other end of the gutter filling the entire gutter with 3 foot lengths and leaving it in place to  solve gutter clogging all year round. 
Gutter Opening Is Too Small: GutterBrush Bristles are Flexible 
If the gutter opening is very small, that is another reason people turn to GutterBrush. GutterBrush  bristles are very flexible so even a large diameter size of GutterBrush (5 diameters or sizes from 3.25  inches up to 8 inch diameter) can be pushed through a small opening. Once it gets through to the other  side and into the gutter, the bristles will spring back into place because they are flexible and resilient. It  is a common problem with prefabricated structures that the roof panel drip edge extends too far into the  gutter and restricts it down to a very small gutter opening. GutterBrush customers love the fact that  they can press GutterBrush through smaller gutter openings and protect the gutter from clogging. 
Alumawood Patio Cover DIY, Gutter Guard 
Many Alumawood Patio Covers are sold as kits so that the homeowner can build it themselves. Yes, they actually do sell Alumawood Patio Cover DIY kits. To me that seems kind of complicated even for the most skilled DIY homeowner. GutterBrush is a user-friendly DIY gutter guard solution because it requires no skill or leaf guard fastening. GutterBrush is self-fitting so many homeowners who are afraid to take on DIY projects, are not afraid to tackle a patio enclosure or any gutter project; due to the ease of installation.  
Alumawood Accessories, Fitting a Brush Gutter Guard 
You can fit your gutter with a brush gutter guard to keep it from clogging; one of the nice Alumawood accessories. GutterBrush comes in 5 different diameters or sizes, for Alumawood accessories. You can  get sizing samples that come with 3 different diameters in one box so that you can insert the brush gutter guard sample and compare and see for yourself. Click here for residential samples in which the box comes with a 3.25" diameter, 4.25" Dia. And a 5.25" diameter brush. Click here for commercial sizes in which the commercial sizing sample box comes with a 5.25 inch diameter, 6.5" diameter, and an 8" diameter brush. GutterBrush has an experienced technical service department ready to take phone calls and help people get the right size GutterBrush to fit their gutter. 
Patio Cover Gutter Guard, and Similar Gutters:
Patio covers are prefabricated structures that when assembled make a beautiful patio room.  There are many different manufacturers of these enjoyable and affordable relaxing spaces.  There are also many different names for these prefabricated rooms, many of them having the same odd shaped gutter referred to in this article. Those needing gutter clogging and maintenance help, might refer to the problem as a sunroom gutter, patio room gutter, lanai gutter, carport gutter awning gutter. Click here for a video and to see some of the above referenced prefabricated patio rooms and other structures which have gutters which may be oddly shaped, difficult to clean, impossible to fit with a gutter screen or leaf guard, and could benefit from the self fitting and easy DIY nature of the Gutter Brush gutter guard.
So if you are looking for Alumawood Patio Cover Accessories, gutter guard; or if you are just trying to stop some common gutter from clogging, you can call 888-397-9433 or email
info@gutterbrush.com
to  discuss your gutter and speak to an experienced gutter professional; some people even send pictures so  that the friendly folks at GutterBrush can better understand their gutter woes!