What Types of Gutters Can Use GutterBrush Simple Leaf Guard ?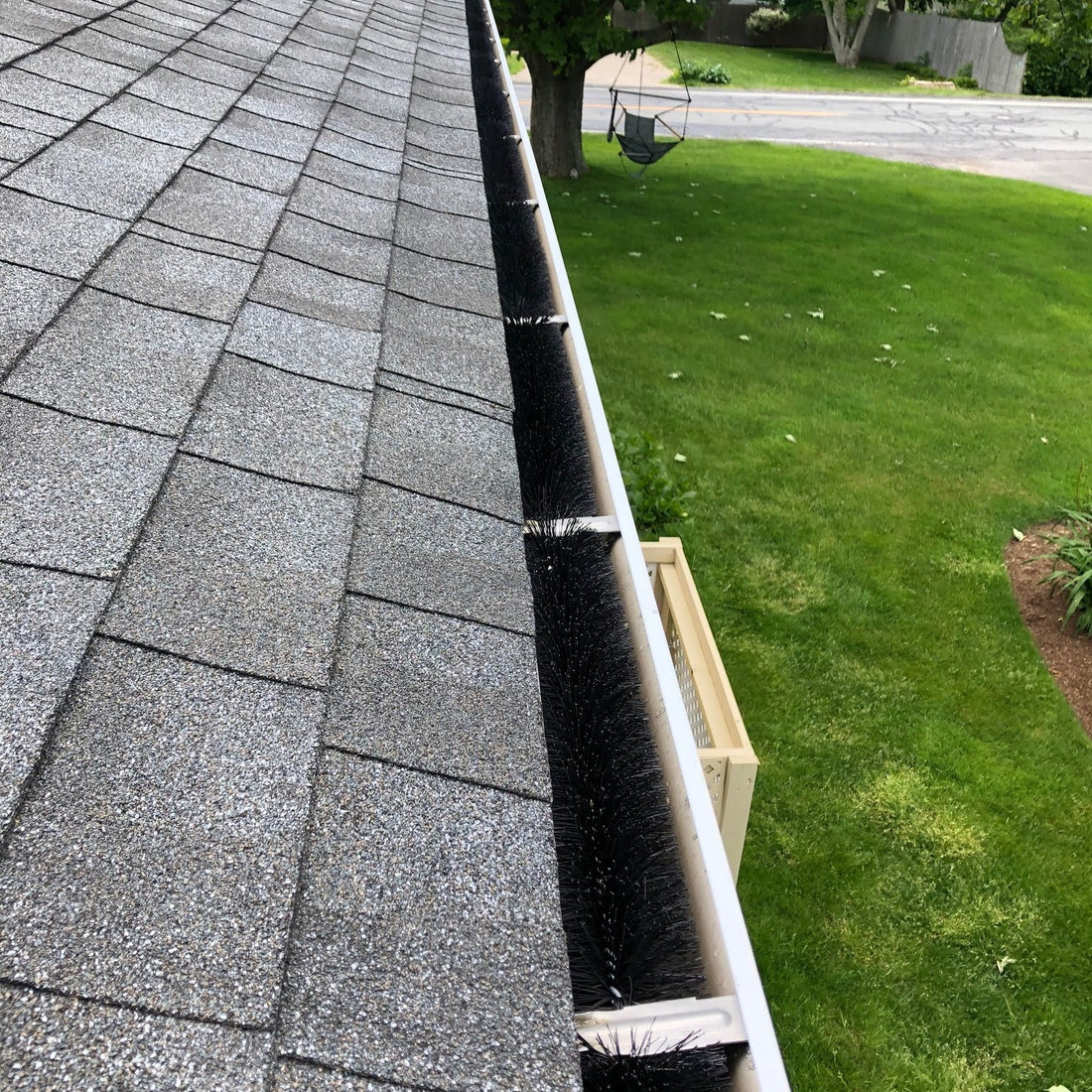 As the winter season approaches, it is time to consider some steps to take to prevent home damage and expenses during cold weather. The time has come to blow out your sprinklers and winterize your power equipment, but what other steps can you take? If you haven't cleaned your gutters, they are bound to be filled with leaves. This can lead to clogged gutters, ice dams and expensive water damage.  Cleaning gutters is a dangerous job to tackle by yourself and an expensive one to have done for you. That's where the GutterBrush simple leaf guard comes in.
GutterBrush is a simple, easy and effective way to eliminate gutter clogs and reduce or eliminate most gutter cleaning. You simply insert the brush into your gutter and the design allows the water through the bristles while keeping the leaves and other debris out. GutterBrush is produced in sizes to fit just about any building or gutter size or style.  
Gutter Guard for 5-Inch Standard Gutters.
The most common residential gutters are 5 Inch Standard and the Standard size GutterBrush is 4.25 inches in diameter to protect these Standard 5 Inch Rain Gutters.
Gutter Guard for Oversized 6-Inch Standard Gutters.
Another popular size is the oversized 5.25-inch brush fitting 6-inch oversized gutters. These larger gutters are popular for newer construction with large roof areas as well as some commercial buildings and apartments.
Small 4-Inch
The small 3.25-inch brush for 4-inch gutters is generally going to be used for specialty gutters. This would include trailers and mobile homes as well as some sheds, sun rooms, greenhouses, and other structures along those lines.  K-Style gutters do come in 4", but this is not standard.
Gutter Guard for Commercial 7-Inch Gutters.
Many Commercial buildings have 7 inch gutters and would need the 6.5 inch diameter Commercial GutterBrush size. Some of the buildings you might see this size in would be pool enclosures, metal buildings, schools, churches, etc.
Gutter Guard for Industrial 8-Inch Gutters
The largest size that GutterBrush offers is the 8-inch industrial leaf guard brush. These brushes are mostly used in large pre-engineered industrial buildings, large warehouses, and other similar buildings.
The easiest way to choose the right size leaf guard brush for your gutters is to measure the width of the gutter at the top. GutterBrush offers many different sizes so that the needs of almost any type of building will be met. The brushes come primarily in lengths of three feet with a couple smaller 18-inch sections included to avoid the need for cutting or altering the brushes to fit your gutters. The goal of GutterBrush is to ensure that the installation and upkeep of the brushes is as simple and effective as possible.