Readying Your Home and Roof for Summer Storms and Tornadoes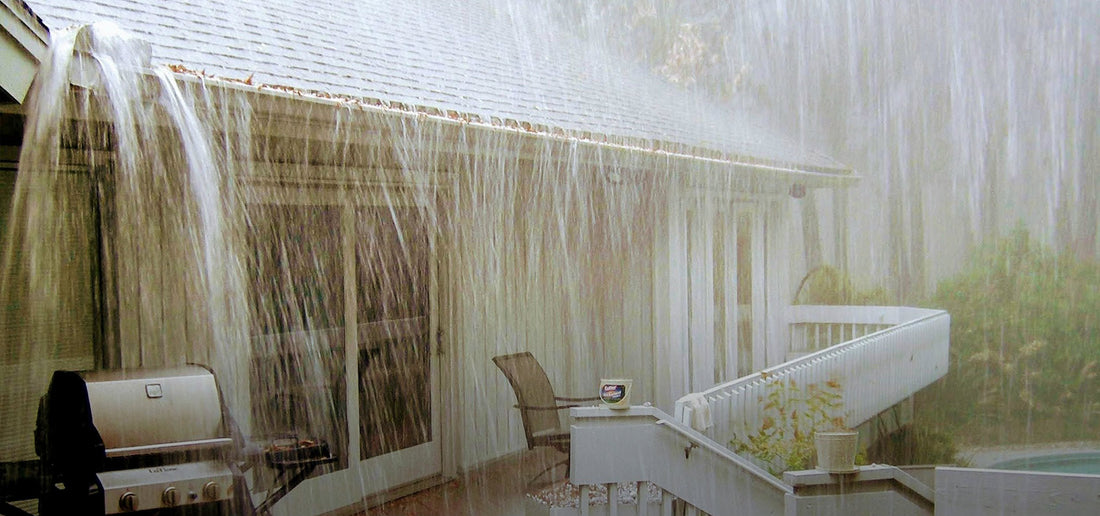 When you see those horrible images of buildings being torn apart because of  a direct hit from a monstrous tornado, it is easy to feel overwhelmed and powerless as if there is nothing you can do to prepare for the late summer/early fall storm season, but the fact is that it makes good sense to be as prepared as possible.  Most often, these storms do not make a direct hit on your property, therefore, after the storm has passed you will likely be very pleased with yourself for having proactively made your property as prepared and as strong as possible. To what extent someone plans to to prepare, will vary by the individual.   Some will choose to spare no expense in hiring professionals, strengthening, and "battening down", while others, potentially of lesser means, might simply choose to prepare by performing tasks that are both feasible, affordable, and reasonable. After a storm has hit, the point is to have no regrets. Preparation can pay huge dividends when compared to cleaning up and repairing or rebuilding after the fact, so below are some suggestions for preparing your property; broken down into five categories.
Land and Property Preparation
Maintenance Preparation
Roof Preparation
Doors and Window Covers, Shutters and Reinforcement
Structural Strengthening and Tie Downs
Land and Property Preparation:   
You will  want to make certain that your property is maintained as best as possible attempting to remove objects that can be lifted by the wind and made into damaging and deadly flying debris.  Trees with dead limbs should be pruned, dead branches laying on the ground should be discarded, and trees that could fall onto the house can be cut down in advance. Consider a plan to remove, tie down, or otherwise handle any object that might become airborne and damaging.   If you have a shed or a garage, consider hiring a professional to determine if it requires additional anchoring to the foundation. When preparing for storms, now would be the time to make sure that all yard maintenance is complete and up to date.
Home Maintenance Preparation:
   With storm season approaching, it makes sense to have all of your typical and regular maintenance punch list completed.   When that storm arrives, you will want your home and drainage functioning properly and there is no better way to be prepared than to complete all of the typical regular chores in advance; such as keeping the roof and gutters clear of debris so that drainage systems will work properly.  If a storm did cause damage, you wouldn't want it to be further amplified by a clogged gutter pouring a deluge of water onto it. Clear all debris from your roof, gutters and downspouts in advance. Additionally, during the storm wind could continue to spray random debris onto the roof and gutters,  which can flow to the outlet tubes and cause clogged drainage pipes, so it also makes sense to further prepare and protect gutters f

rom such airborne debris.   If the storm debris doesn't clog the gutter outlet tube, it can enter the leader pipe and clog elbows or even worse cause a back-up with in-ground storm drains, so it makes sense to install protection to keep all debris out of the drainage system; otherwise you might be paying for an expensive visit from a roto-rooter type of company.   Similar to the way a bathroom shower drain has a strainer to keep the shampoo cap from clogging the plumbing, outlets and downspouts need protection. Unfortunately, if you only protect the outlet with a wire strainer type of device, you will likely create a maintenance nightmare requiring cleaning of that strainer every two weeks in order to keep it flowing.  While the outlet tube does require clog protection, the simple individual wire strainer devices do not possess enough surface area to both stop and trap the debris while also keeping the outlet flowing for a reasonable period of time between cleanings. To protect your outlets and drainage system from clogs during and after the storm, consider clog protection that extends the entire length of the gutter utilizing the most possible surface area so that it will require fewer maintenance clearings to keep it flowing. One simple product on the market  that accomplishes this end result is a simple gutter brush; you fill the entire gutter with this bristle brush from "end to end" and you leave it in place so the brush keep the debris out and the water flows between the bristles. One of the benefits of this simple type of gutter brush protection, is that it requires no tools or fasteners and is incredibly easy for just about anyone to install and maintain. Since the brush runs the entire length of the gutter, there is maximum surface area to keep debris out and keep the gutter flowing between maintenance visits.  The larger the surface area, the longer you can go between maintenance visits without clogs. 



Roof Preparation:    When I speak of roof preparation, I am referring to the assembly of the roofing materials and not of the roof structure; which is discussed later in the article.   Make sure your roof is complete, intact, and in good strong condition. Perform all necessary roof leak and roof repairs prior to storm season. A good experienced and knowledgeable professional roofing company is very valuable and typically necessary to inspect, understand and fortify the roof as needed.   With a typical sloped or shingled roof, the roofer will inspect to identify and repair any visibly weak or loose components. For example, with a typical composition shingle, one would spot check areas with a simple fingertip pull. The roofer uses his or her fingertips to assure that the shingles are sound and solidly adhered.  For the shingles that fail the fingertip test, a handful of roofing nails and some properly placed adhesive can fortify loose shingles. Assure that all roofing components and accessories are well attached and ready for the storm. If a new roof is installed, consider "hurricane nailing" with 6 nails per shingle. Low sloped and membrane roofs should be inspected and fortified in a similar manner; again an expert roofer is incredibly valuable when it comes to low sloped roofing.  A professional roofer understands that some low sloped roofs are "loose laid mechanically attached" membranes that are actually meant to billow in the wind. A professional roofer can understand what types of membrane billowing is acceptable or otherwise could identify where billowing of the membrane is excessive and additional membrane attachment fastening may be required. A professional roofer has a solid understanding of roof materials, details and attachment specification.
Doors and Window Covers, Shutters and Reinforcement:   Homes in high wind areas can be retrofitted for window covers and storm "roll down" shutters.   When the storm is imminent, the shutters can be "rolled down" to the closed protective mode with just the touch of a button.    Garage doors can be additionally strength-reinforced to handle higher winds or alternatively the garage door can be entirely replaced with a stronger model rated to withstand higher winds.   When hurricanes are approaching, it is common to see buildings with every window covered by a custom attached piece of protective plywood. When faced with high winds, an often used technique is to actually apply duct tape in an "x" configuration to the glass to additionally strengthen the window's ability to successfully handle the high winds.
Structural Strengthening and Tie Downs:   A good building contractor can provide inspection services and recommendations for strengthening the building's structure and its ability to handle wind uplift forces.    The best time to strengthen a structure would be during the original construction because at that time the structure is exposed and accessible for fortification. After the building has already been built and finished, much of the structure is covered by wallboard and finish work and therefore is not entirely accessible for inspection and improvement; and therefore must be predominantly  assumed to be in "sound" condition. In the areas where the structure is exposed such as the attic and the basement, a good contractor can inspect the structure and make recommendations such as adding framing to brace gable end strength. In the attic, Simpson ties (metal ties) can be used to anchor roof framing down to the wall tops as well as anchor ridge poles to rafters. Since the attic is typically exposed, a contractor might even be able to add all of  the necessary "ties" to verifiably improve your roof structure to meet the newer high wind codes, further increasing its value. In the basement, the sill plate is likely exposed and therefore could be inspected and additionally anchored to the foundation if necessary.
In conclusion,  there are plenty of productive measures that can be performed to increase your home's ability to handle storms.  The challenge, is in understanding which improvements are necessary and make logical sense to perform in advance.    Sometimes, it just makes sense to not get overwhelmed and do what you are capable of doing, when you can. If a tornado hits, FEMA suggests that you take refuge in a storm shelter that meets FEMA ICC standards.  Additional warning and preparedness can be acquired by signing up for your communities or town's warning system. At times of trouble, additional information can be gathered by tuning-in to the National Oceanic and Atmospheric Administration's weather radio channel.   Regardless, it always makes sense to be prepared for the worst by identifying weaknesses, fortifying, and strengthening the home's ability to withstand powerful storms; in advance. If nothing else, you might just sleep better at night with the fulfillment achieved from knowing you paid attention, hired professionals and did your best.
Written by:   Alex O'Hanley,  GutterBrush 8/8/18