Cleaning Gutters? Beware of Exterior Hazards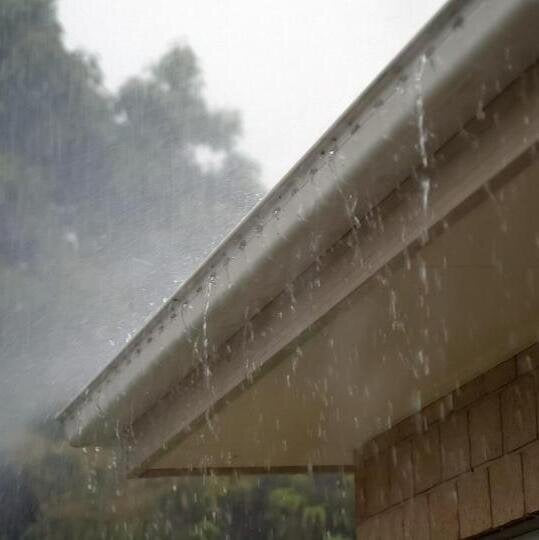 While the thought of spring cleaning may be behind us, summer gutter cleaning from storm droppings, and exterior revamps needed due to extreme weather conditions, are just as important, if not more! These easy-to-forget tasks can cause a multitude of problems if you let them fall to the wayside; such as clogged gutters, wood rot, and derailing renovations. Even if you're a pro, it's important to be aware of the possible hazards that could come with cleaning your home's exterior. As we work our way into National Safety Month, think about these dangers and ways to stay safe as you take on these home projects. 
Physical Hazards When Cleaning Gutters
Cleaning gutters can seem like one of the easiest projects to take on, but can actually come with a few hazards if you're reaching new heights. Your ladder may seem stable, but the higher you climb, the more at risk you are of injury. Consider a  ladder stabilizer to avoid any potential falls to keep yourself safe. According to a  study done by the Consumer Product Safety Commission  more than 1.5 million adults a year have a fall-related injury. This ladder stand off keeps the ladder away from the gutter, while keeping you balanced and protected. Plus, this acts as a ladder gutter guard, avoiding any dents or damage to your current gutter and gutter clog protection system.  Gutter covers and gutter helmets can get dented when you lean the ladder against them, but this ladder stabilizer puts the weight of the ladder on the roof, improving safety and decreasing gutter damage and dents
It's recommended to clean your gutters once or twice a year, but due to heavy falling debris in multiple seasons, it's important to be aware of damaging gutter clogs that can happen year-round. During a rainstorm may seem like a great time to unclog your gutter or clean your gutter, but the ground is actually more unstable, and the wet, damp environment is more dangerous. 
It's vital to wait until your environment has dried up, for safety.  You can always have the right tools for gutter cleaning, but your environment's hazards are just as important. The wet slippery debris that is in your clogged gutters, can wait until a safer dryer day. It's easier to remove gutter leaves on a dry day anyway.
Health Hazards with Gutter Cleaning
As always, when working with ladders, regardless of whether or not you use a ladder standoff stabilizer for added safety, identify all electrical power lines, especially when using an aluminum ladder. Stay away from overhead powerlines and eliminate the risk of an electric shock while cleaning gutters. 
Homes that were built before the 1980s will also tend to have a few more hazards than those that are newer, which can make the process of cleaning gutters a little different.   New homes and those that are in good condition won't face these issues, but older homes may have  asbestos siding and asbestos cement roofs. 
Again, left alone and with no damage, asbestos hazards at your home may cause absolutely no harm to you, your family, or any potential contractors you have working on your home. If damaged or disturbed, however, these can directly affect you or whoever is doing your exterior cleaning — be it siding, your roof, or even your clogged gutters.  Whether it be people that have been hired to work on your home, or family safety, we can never be too careful when it comes to making sure all those on our property are breathing clean uncontaminated air.
Exposure to asbestos fibers during these projects can cause asbestos diseases, such as lung cancer, ovarian cancer, and mesothelioma. It won't necessarily cause issues right away, but  signs of mesothelioma  can take 10-50 years to show and can be disguised as fatigue, coughing, and muscle aches; which makes it harder to diagnose and treat later on.
If you've just bought your home, or are living in an older home, it's best to get these exteriors inspected before taking on any gutter cleaning, siding updates, etc..  Identify and pay attention to any asbestos hazards, and stay clear of any possible airborne asbestos. You don't want to just make sure you're physically safe, you want to also make sure you're staying healthy through the process as well! 
Hazards to Your Gutter and Home Health
Moving away from personal health and physical dangers, it's important to consider your home's health. Leaving gutter leaves and debris that will create a clogged gutter in rainy months, can lead to mold, potential flooding, and other potential home renovation costs that you may not be planning.  Installing  Gutterbrush simple gutter leaf guard is an easy way to avoid any gutter overflow and water damage issues.  It is a DIY gutter guard that keeps your gutters from clogging , especially during a storm. Keeping your gutters from clogging, will decrease a home's mold, fungi and other bacteria that can cause diseases. To protect your hands, wear gloves during gutter cleaning.  
Easy leaf guard installation and eliminating or decreasing future gutter cleanings, is key, especially if focusing on home health. Metal gutter guards can freeze quickly in the winter, causing ice blockages in your gutter systems. While it's hard to avoid the cold weather, these metal guards can freeze, and cause ice problems while exacerbating roof ice dams and water backup leakage.  
Clogged gutters, whether in the cold or the heat,  can cause direct damage to your home's foundation, and even affect the integrity of your home. Wood rot, insect damage and roof leakage are some of the biggest home expenses you might have to take on if this happens. Prevention is easier than replacement and renovation, so consider these quick fixes to avoid future home hazards.  Plus, the installation of this simple brush gutter guard and gutter filter, will not only decrease future gutter work, but it will also keep gutter leaves and debris from clogging your downspouts and your downspout drains underground too.  Unclogging or digging up the buried underground gutter drainage pipes can get expensive, so protect them from blockage too.
As you move into warmer months, thunderstorms and wet debris can cause plenty of damage, so it's important to think about your health and safety, as well as your home's. While it may seem like an easy project to take on, there are plenty of exterior hazards to be aware of.  Don't be afraid to identify hazards and adjust the way you work, as you make new home changes which keep your space clean, safe, and also keep you healthy.