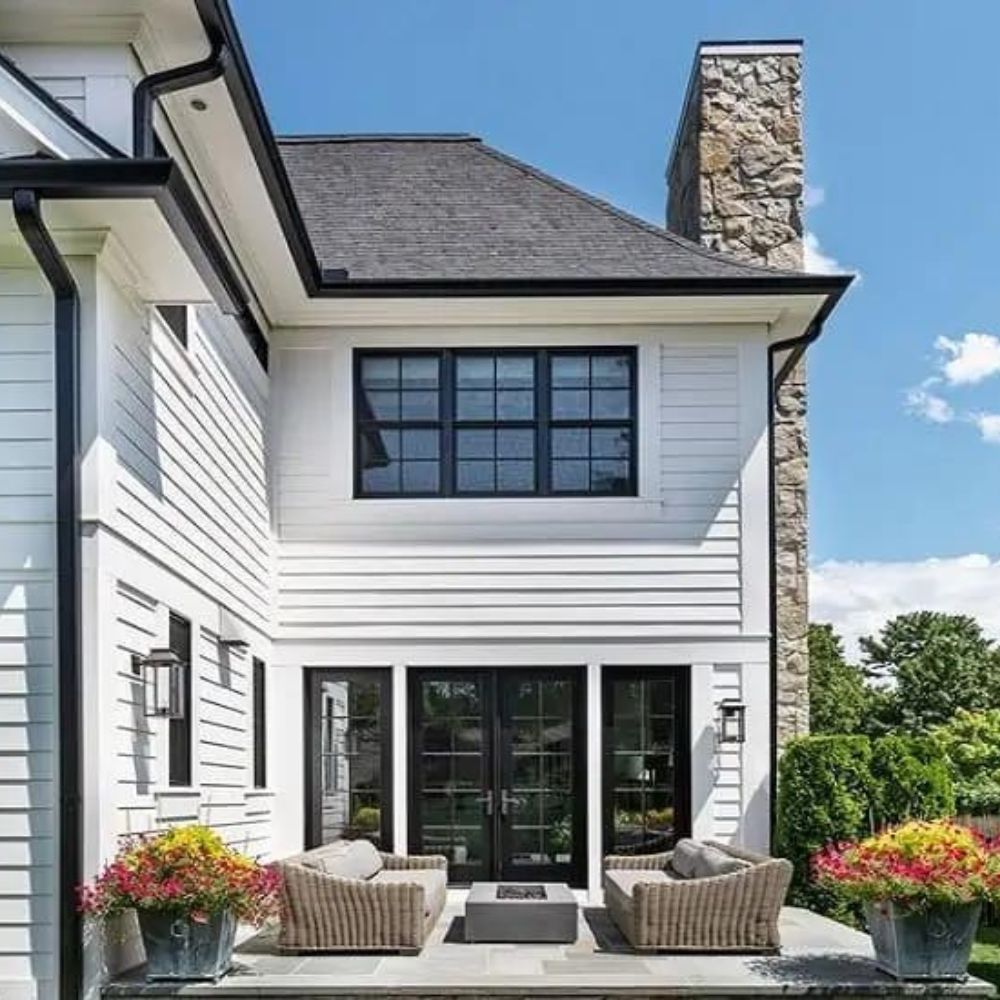 In 2023, Black is the new sheik way to add definition and sharp contrast to your home.  People are adding black gutters and even black windows to create that curb appeal and make the home visually stand out. Adding black accents can be striking, can really improve the look of a home or building, but be careful because sometimes the contrast can be overdone.  Also, be careful when painting black features on your home, if they are not smooth, you might consider dull black paint instead of glossy paint.  When painting your gutter black, glossy black paint will really show all of the imperfections so consider a flat black color if you have dings, dents and a rough gutter or molding surface.  Of course you will want to decide if you want matching downspouts, matching gutter straps and even a black gutter guard.
Black Gutters, Black Drip Edge and Moldings
Keep in mind that very often a gutter is sloped, so when you are deciding which features and moldings to paint and accent, pay attention to the fact that if the black gutter is hung with slope, and the roof edge or roof drip edge is white, then the contrast between the two as well as the varying distances between the two might make things look a little crooked.  Consider whether or not to also paint the roof drip edge black so that it will not stand out
Change Windows From White to Black, Vinyl
Whenever you are changing an exterior item from white to black, always consider the composition of the item you are painting.  When you change a feature from white to black, you change the item's extreme temperature; because different colors absorb the sun differently.  When the item is in the sun all day, it will reach far higher temperatures with a black surface than it otherwise would have with a white surface.  Some items are not capable of handling the extreme temperature changes,  and can react adversely.  I would suggest consulting with the window manufacturer if you are changing a vinyl window from white to black because such a change could decrease the window lifespan.
Black Gutter Guard
If you are going to paint your gutters black, you will probably be looking for a black gutter guard to avoid extra trips up the ladder and  keep your gutter from clogging.  GutterBrush is a company that makes brush gutter guards and they are incredibly easy to install and they happen to be black in color.  Installing the GutterBrush black gutter guard  is very easy, requiring no tools or fastening.  Just fill the entire gutter with 3 foot lengths of GutterBrush and leave it in place to stop gutter clogging.  Its that easy, just slide Gutterbrush black gutter guards under the gutter hangers, filling the entire gutter.  Leave Gutterbrush in place to keep the gutter from clogging.  Gutterbrush bristles are black in color so they will match your black gutter.  Click here to learn which size Brush Gutter Guard will fit your gutter.
Curved Gutter
What a beautiful feature the home has when it requires a curved gutter, typically found on structures such as turrets and light houses or look-out towers.  Some would be built as octagons that would simply have straight sections of gutter that are joined and sealed at the custom miter or angle, while others would actually be built with a curve.  In Jamestown Rhode Island there is actually a round house properly named "The Round House".   Such structures may have a curved gutter that can be painted black to really look sharp.  The good news is that GutterBrush is a gutter guard for octagons or curved gutters.  Simply fill the gutter and bend the brush gutter guard around the corners. GutterBrush is flexible, and the wire core will stay at the angle you bend it.
Curved Gutter Guard
The brush can also be shaped to be a perfect curved gutter guard to keep that expensive custom gutter from clogging.  A series of multiple smaller bends, or an actual curve, can easily be achieved with GutterBrush.  GutterBrush is so easy to work with, that a custom black gutter guard will not be necessary.  
Radius Gutter
Radius gutter, is another name for a curved gutter.  And of course these beautiful fixtures can be painted black.  Gutterbrush is a great, simple and easy black gutter guard to match black radius gutters.  The easy self fitting installation of GutterBrush, makes it an ideal radius gutter guard.
Black Gutter on a White House
People are even going so far as to have a black gutter on a white house.  As long as your gutter is  in good shape, why not paint it with the accent of the home, or better yet, have them removed and install all new aluminum black gutters.  Due to the popularity, the local gutter installer can back his gutter trailer right up to your home and roll out as much footage as you need; and he or she can go ahead and install the black gutter on a white house or any color home.  Many gutter providers may also be willing to "cut and drop", providing the homeowner with the gutter, gutter hangers, even fasteners, screws, black accessories and black downspouts, for self installation.   So whether it is painted, contractor installed, or DIY, you can get your black gutter on a white house; or any color house. For a black gutter guard, check out this simple easy DIY method for solving black gutter clogs.